September 26th, 2008 by Powder Pig
The White Mountains of New Hampshire are world famous for extreme foliage colors in the fall. Million of leaf peeping tourist show up every fall to take in the fantastic views. As you approach the various regions of the white mountains from the south the color become more and more vibrant as you go north.
Franconia Notch State Park, located in the heart of the popular White Mountain National Forest. Franconia Notch is a spectacular mountain pass traversed by a unique parkway which extends from the Flume Gorge at the south to Echo Lake at the north. For eight miles, I-93 winds between the high peaks of the Kinsman and Franconia mountain ranges.
Depending how adventurous and healthy you are should dictate your hiking plan. The White Mountains of New Hampshire can be dangerous. The weather changes by the second. One minute the sun is shinning the next it could be snowing in August.
Considered a novice hike Lonesome Lake Trail at Franconia Notch State Park is easily completed in a day. The Lonesome Lake Trail starts at the camping and hiking hub of the Notch is centrally located in the Park at Lafayette Place. It provides a great base camp from which to enjoy hiking, biking, fishing, swimming, and many attractions in the White Mountains.
The Lonesome Lake Trail start at Lafayette Camp Ground and climbs past the Hi-Canon Trail 1.6 miles to the Lonesome Lake Hut and Around Lonesome Lake Trial. Around the Lake is a 0.8 mile loop. The Trail also intersects with the Kinsman Ridge Trail AKA The Appalachian Trail.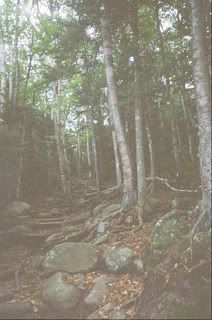 Our Hike starts at the campground and turns left onto the Around Lonesome Lake Trail to the Lonesome Lake Hut passing these great views. After the AMC Hut we continued on around the lake the back down The Lonesome Lake Trail. The first awesome view we see is the lake with Cannon Mt in the back ground.